Experience The
Standard Room
Your Banff Homebase
250 – 350 sq/ft

1 King or 1 Queen or 2 Queens

Alpine View
With a variety of room sizes and bed layouts, our Standard Rooms provide the perfect homebase for exploring the beauty of the Rocky Mountains. Settle in for a restful night's sleep with your choice of a single king, queen, or two queen beds dressed in plush linens. Unwind with a movie, and watch the sunrise over the surrounding treetops with a morning coffee in hand.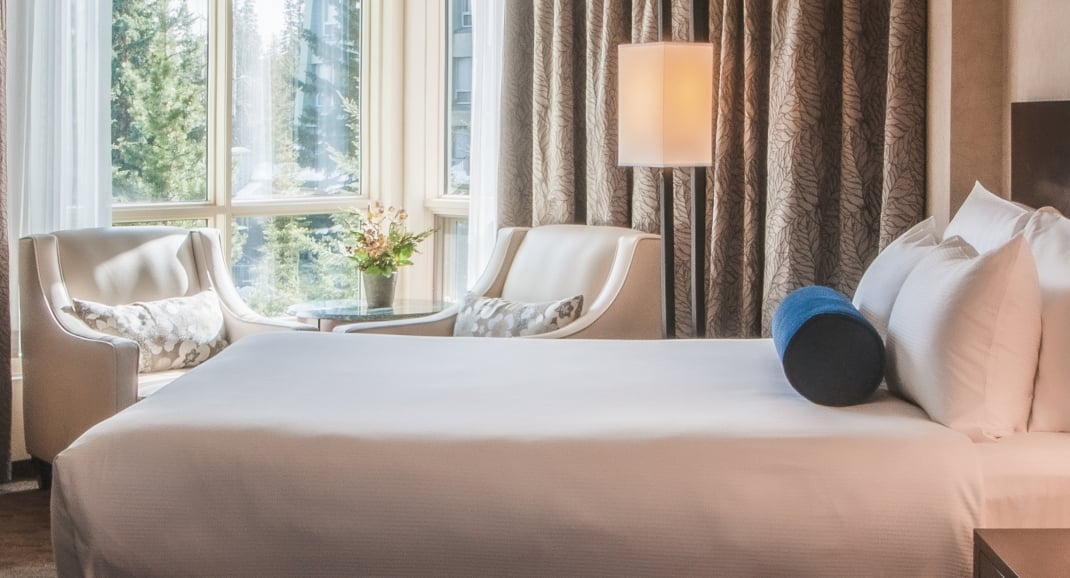 Room Amenities
TV

Bathtub

Coffee Maker

Mini Fridge

Bath Amenities

Complimentary Wi-Fi

In-Room Safe
Other Rooms You May Like
Suite Infinity

800 sq/ft

1 King

Panoramic Valley View

Showcasing breathtaking views of Banff, this elevated, top-level suite is a home away from home featuring upscale amenities, fine furnishings, and an expansive balcony overlooking the Rockies.

Signature Grandview Classic

600 sq/ft

1 King

Panoramic Valley View

Classic design meets modern amenities in these elegantly appointed guest rooms featuring a luxuriously large bath with a separate shower, gas fireplace, and endless views of Banff National Park.

Signature Grandview Modern

600 sq/ft

1 King

Panoramic Valley View

Clean, modern lines and sophisticated touches of dark wood invite relaxation in these guest rooms that offer an oversized bath, warm gas fireplace, and incredible views of the Spray Valley.

Grandview Suite

600 sq/ft

1 King or 2 Queens

Panoramic Valley View

See the beauty of Banff on full display from these thoughtfully designed suites featuring separate sleeping and living quarters, two spacious bathrooms, a pull-out bed, and access to two different balconies.

Grandview Room

350 sq/ft

1 King or 2 Queens

Panoramic Valley View

Classically designed to inspire serenity with clean architectural lines and a neutral palette, these guest rooms feature a well-appointed bathroom and inspiring views of the Canadian Rockies.

Premium Executive Suite

600 sq/ft

1 King

Mountain & Valley View

Refined neutrals and upscale design complement dazzling views of Rundle Mountain and the Spray Valley in this stately suite featuring an open-concept parlor and two full bathrooms.

Junior Suite

500 sq/ft

1 King

Alpine View

Rich pops of navy complement the neutral decor of this junior suite that boasts separate sleeping and living areas, a jetted bathtub, and views of the property.

Grandview Executive Room

400 sq/ft

1 King

Panoramic Valley View

A truly luxurious experience for discerning tastes, this elegantly designed guest room offers an expansive marble bathroom, sophisticated neutral decor, and a balcony overlooking the majestic Spray Valley.

Premium Room

350 sq/ft

1 King or 2 Queens

Alpine View

Featuring sweeping views of Mount Rundle and the incredible Bow Valley, these premium guest rooms offer upscale design elements, curated amenities, and private balcony.

Family Executive Room

400 sq/ft

2 Kings or 2 Queens

Alpine View

Designed for families, these spacious guest rooms offer moments of reconnection with an open-concept living area, alpine views, and room to sleep everyone.